The push for net zero in higher education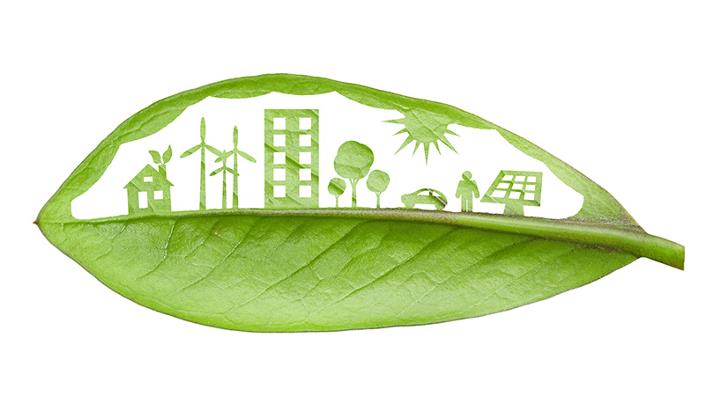 Universities and colleges are key institutions in the drive to reduce greenhouse gas emissions. Engineering Policy Advisor, Matt Rooney, delves into what the sector has been doing.
Last year, IMechE published a report on local energy, with one of the key recommendations being that university campuses increasingly be used as test-beds for innovative low carbon energy technologies. Since then, momentum seems to be growing in the higher education sector to take concrete steps to reduce greenhouse gas emissions.
Spurred on in part by their students, 91% of whom say sustainability should be a priority, universities have set themselves ambitious decarbonisation targets, but many have fallen short, at least so far. In October, the Westminster Higher Education Forum brought together (virtually) leading academics, politicians, and other interested parties to discuss 'UK higher education and net zero – the curriculum, collaboration, and sustainable estates and practices'.
It is clear that politicians and academics see higher and further education institutions as critically important to the long term aim of meeting net zero targets. There are various ways in which they can contribute.
Climate literacy
Universities are educational establishments first and foremost and conferring degrees is their primary task. However, regardless of what degree students are studying, they should graduate with an increased knowledge of climate change and sustainability. There are currently over 4.5 million students in higher or further education in the UK; there is a potential for these (mostly) young people to leave university with the confidence to spread climate literacy throughout the general population.
University campuses as test-beds
As IMechE recommended, there is broad agreement that university campuses should increasingly be used as 'living labs' to test new technologies. The advantages are obvious. Firstly, universities will often have sole ownership of large campuses, which may even have their own standalone energy systems. The lack of wider stakeholders makes it easier to implement change. Secondly, you have an engaged population of students who will be enthusiastic to test new ways of doing things. You also have a relatively untapped wealth of academic expertise that can advise on and even lead new energy projects. Finally, there are synergies that can feed back into the education of students, especially in practical subjects like engineering.
Indirect greenhouse gas emissions
Engineering is often sold to young people as a career that gives opportunities for travel and indeed it does. In my first graduate job, I travelled to Japan, the USA, Canada, Switzerland, Sweden, Poland, and Italy in just my first four years. Similarly, in academia, travel is considered a perk of the job. The summer conference season is an opportunity to travel and present your research to international peers. This is both personally enriching and professionally important. But it may have to change. The travel of university staff falls under the category of 'Scope 3' emissions, meaning they relate to the work of the university, but not necessarily the physical campus itself. These emissions need to be considered and accounted for in plans for net zero higher education.
A side-effect of the coronavirus lockdowns is that it has given us all a crash course in remote working. As the University of the West of England's Professor James Longhurst said, the pandemic has shown how quickly monolithic institutions can adapt if required to. It is important that we lock in some of the benefits of these changes and do not simply revert to normal in a year or two.
Net zero in Scope 3 emissions will need to come from a combination of increased virtual networking by academics, the development of low carbon international travel by engineers, and finally the offsetting, e.g. by planting trees, of any residual emissions that cannot be reduced to zero.
Incentivising decarbonisation in higher education
Universities themselves have made ambitious targets and they have the support of their staff and students, but that can only take things so far. Net zero higher education will not be achieved through the goodwill of universities alone. One example is in low carbon heat. Investments in combined heat and power systems are often sound economics on their own terms and they have proliferated on university campuses. They are usually more environmentally friendly than what they replaced, but if they still burn natural gas they will not be compatible with a net zero world. The roll-out of heat pumps in the short term and perhaps hydrogen systems in the medium term will be required, but the economic incentives are not sufficient for a mass roll-out as yet. Not only is natural gas for domestic heating exempt from any carbon taxes, consumers pay a reduced rate of VAT of 5%, an effective subsidy, or what some call a 'negative carbon tax'.
There are other non-economic barriers to deployment of low carbon energy tech, as evidenced by some of the challenges that the University of Edinburgh faces. Due to the world-famous Edinburgh Festival, which in normal years takes place in August, their campus becomes the 'largest hotel in Edinburgh'. Tourists opting to stay in dorm rooms during their summer visit means that this is not downtime that could be used for renovations. Edinburgh is also a historic university and upgrading older buildings is a challenge. In physical terms, ground source heat pumps may not be possible is the city centre, while the listed status of many of the university's buildings can mean regulation prevents (or substantially increases the cost) of upgrades. 
These extensive challenges mean that higher education institutions will need to take a holistic approach to decarbonisation, while the Government and devolved administrations will need to put in place a range of stable and long-term incentives will be required to reach net zero HE.  
The role of funding bodies
Funding organisations can promote sustainability in university research by, for example, imposing environmental criteria on any grants given out. However, they can also have more direct involvement. Universities receive a large proportion of their research infrastructure funding from UKRI, who can have a huge influence in promoting university campuses and national laboratories as 'living labs'. The potential benefits here are substantial: big science uses a lot of energy.
Conclusion
In his opening remarks, Lord Duncan of Springbank, both a former BEIS Minister and MEP, pointed to the fact that the European Parliament building is exempt from environmental legislation that it implements, an example of leading from the back. Universities should lead from the front and be living examples of sustainability to the rest of society. The UK is often said to 'punch above its weight' in science and research. It also was the first major country to commit to net zero with legislation. Hosting COP26 in 2021 gives the opportunity to show that ambitious targets are being backed up with innovative technological solutions to get there.