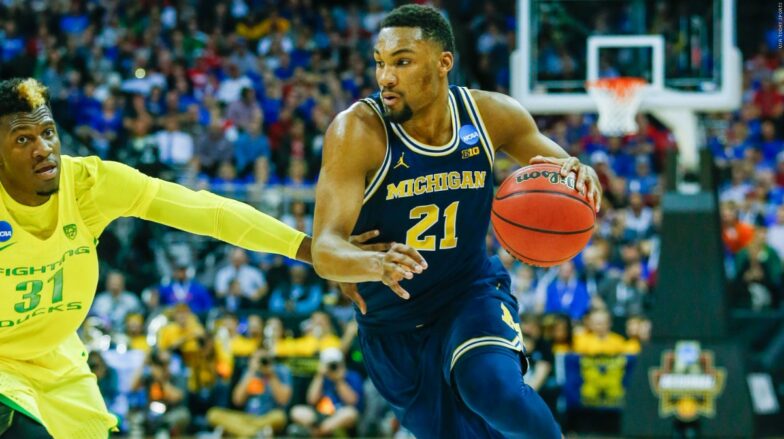 Zak Irvin is one of the lucky ones who can fall asleep on airplanes. On March 8, surrounded by his University of Michigan teammates, coaches, their families, the pep band and cheerleaders, he zonked out before the plane that was about to take them to Washington, D.C. for the Big Ten tournament even began to taxi down the runway.
But Irvin's slumber was interrupted that day. Trying to take off in high winds at Willow Run Airport, the pilot quickly determined he wasn't going to be able to get the plane into the air, so he did the only thing he could — hit the brakes. Michigan assistant coach Billy Donlon won't ever forget what happened next.
"If [the pilot] keeps going straight, we're going to run into buildings," Donlon said. "He had to make a hard left to get off the runaway. It wasn't like we slid off the runway. He had to do it to avoid buildings."
Only when the plane skidded into a fence did Irvin awaken to the horror that was unfolding.
"We took out a fence," Irvin said. "That's what I woke up to. I'm like, 'what is going on right now?' I heard people screaming. Was this real life or a movie? I felt like I was dreaming."
"After what I've been through this season, I'm ready for anything."

Zak Irvin
It wasn't a dream, but it wasn't a nightmare, either. Everyone on board scrambled to safety, and there were no serious injuries.
"I talked to some pilots afterwards," Donlon said. "And a couple of them told me the majority of mishaps like that are all-or-nothing deals. Either everybody walks away, or nobody walks away. We were really lucky."
Michigan coach John Beilein and athletic director Warde Manuel gave the Wolverines the option of getting back on a plane and playing in the Big Ten tournament or staying in Ann Arbor, but there was never a question about what they would do.
What happened next will be talked about as long as college basketball is played. Forced to compete in their practice gear because their uniforms were still packed on the damaged plane, and arriving at the Verizon Center just two hours before game time, the Wolverines, seeded No. 8 in the tournament, beat Illinois to advance to the quarterfinals. There, they took out No. 1 seed Purdue. In the semifinals, Michigan got past Minnesota, setting up a championship game matchup with Wisconsin. The Wolverines won, secured an automatic NCAA tournament bid and advanced all the way to the Sweet 16 before their run was ended by eventual Final Four participant Oregon.
Of course the national media breathlessly told the story of how Michigan, uncertain of an NCAA berth before its brush with tragedy, was propelled through March by its good fortune. But the truth was, the Wolverines were 6-2 in their previous eight games before the Big Ten tournament, and the only losses were in overtime at Minnesota and against Northwestern, when the
…
Read more