Since 1900, 44 men and nine women have had charge of English education. They included one duke, two marquesses, two earls, two viscounts and three hereditary baronets. Eight were old Etonians; four were old Harrovians; 10 went to state schools but only two, including Gavin Williamson, the present incumbent, to comprehensives. Only four had ever been schoolteachers; about twice as many were barristers. One (you know who) went on to be prime minister.
Until recently, the job – not considered one of the great offices of state – rarely interested politicians of stature. Winston Churchill turned it down in 1905 because it involved "smacking children's bottoms and blowing their noses". It was a position mainly for has-beens, never-weres and political climbers who couldn't wait to move on to something else. Another Tory education minister, Edward Wood (later the 3rd Viscount Halifax), was equally dismissive of education: state schools, he said, should train children up "to be servants and butlers". Civil servants complained it was hard to discuss anything with him because he spent so much time hunting.
Is Williamson worse? Or worse than another Tory predecessor, John Patten (1992-4), who called Birmingham's then chief education officer, Tim Brighouse, "a nutter" and a "madman", was sued for libel and had to pay substantial damages? Worse than Sir Keith Joseph (1981-6), who made it all too plain that he didn't like the idea of state schools and once said "I wish we'd taken a different route in 1870"? Is Williamson worse, indeed, than any of his predecessors?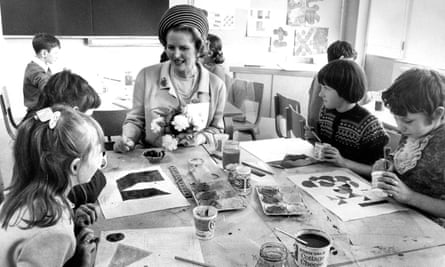 You know who: Margaret Thatcher, the only education secretary so far who went on to become prime minister

Photograph: Tom Stuttard/The Guardian
Many think so. "What could have been in the prime minister's mind," tweeted Nicholas Soames, Churchill's grandson and a former Tory minister, "… to appoint so mere, so unreliable, so wholly unsuitable a man?"
"He's fucking useless," was the crisper verdict of an unnamed vice-chancellor, speaking to the Guardian. And: "Any minister who makes children cry is not in a good place," said a Tory MP.
All were referring to this summer's A-level grading debacle. With exams cancelled because of Covid, Williamson decided that grades would be decided by a combination of teacher assessments and a mysterious algorithm that would correct for teachers' over-optimism and generosity. When 40% of assessments were downgraded, some drastically, an outcry ensued, in particular because disadvantaged pupils were most commonly the losers. Williamson insisted there would be "no U-turn". Two days later, he announced the re-instatement of the original teachers' assessments, for GCSEs as well as A-levels, pleasing students and teachers but throwing universities, which had already filled many of their places, into crisis.
It was A-level grading that also did for a Labour education secretary, Estelle Morris (2001-2), who had been popular and had seemed well qualified for the job. Not only had she taught for 18 years in a comprehensive, she had spent four years in more junior positions at the education department. Alas,
…
Read more