Wales centre Jonathan Davies says he knew he was potentially risking his career by playing in the World Cup semi-final defeat against South Africa.
Davies played against the Springboks and New Zealand in the bronze medal match after damaging his knee against Fiji earlier in the tournament.
"I was told if I played the semi-final there was a risk of not finishing my career," said Davies.
"It was worth the risk. I made that decision… it was something you do."
Davies had missed the quarter-final win against France and his knee was heavily strapped for the final two matches of Wales' 2019 campaign.
"It was tough going those last few games… I don't think it was quite one leg, maybe one and a half!" said the 32-year-old Scarlet.
"I felt capable enough of going out there and giving a performance. It was heavily strapped and I was in pain but the hard work put in by the medical team to get me right to go out and play meant I was able to do that."
Davies has since endured 11 months on the sidelines following an operation which he also knew could end his career.
"The uncertainty going into the surgery and not knowing what the outcome would be was the hardest thing to deal with," said Davies.
"Once I knew at the 12-week mark the surgery was a success, it was a relief.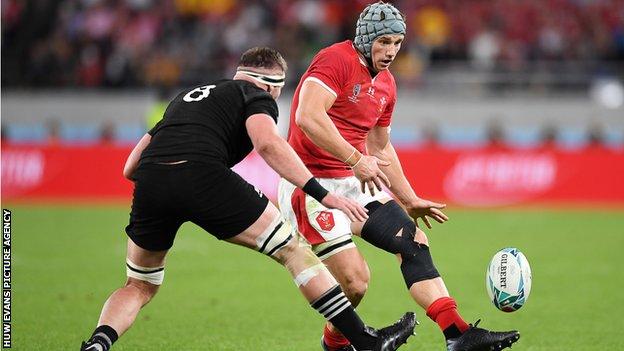 "The work I put in during those first 12 weeks to change my diet, that I looked after myself and didn't do anything I shouldn't was really important because there was a risk the injury could have ended my career.
"I made sure I did everything possible and thankfully we got a good result. I think that was down to a bit of luck, but a lot of it is also down to the work you put in away from rugby."
Davies has played 81 times for Wales with two Grand Slams and three Six Nations titles to his name. He has also played six Tests on two British and Irish Lions tours, part of the series success in Australia in 2013 and being named man of the series in the drawn contest in New Zealand four years later.
So he was philosophical about being told his career might be on the line.
"It would have been tough and was tough hearing that, but I've been extremely fortunate," said Davies.
"Rugby has been very kind to me and I've had some amazing experiences. Me being me and with the fortunate situation I'm in, I could have just about taken that. It was almost another challenge for me to then say, 'this isn't going to stop me. I am going to come back from this'.
"It did start a fire in me to keep pushing and striving to come
…
Read more