Covid-19: University students not dropping out despite disruption
By Sean Coughlan
BBC News family and education correspondent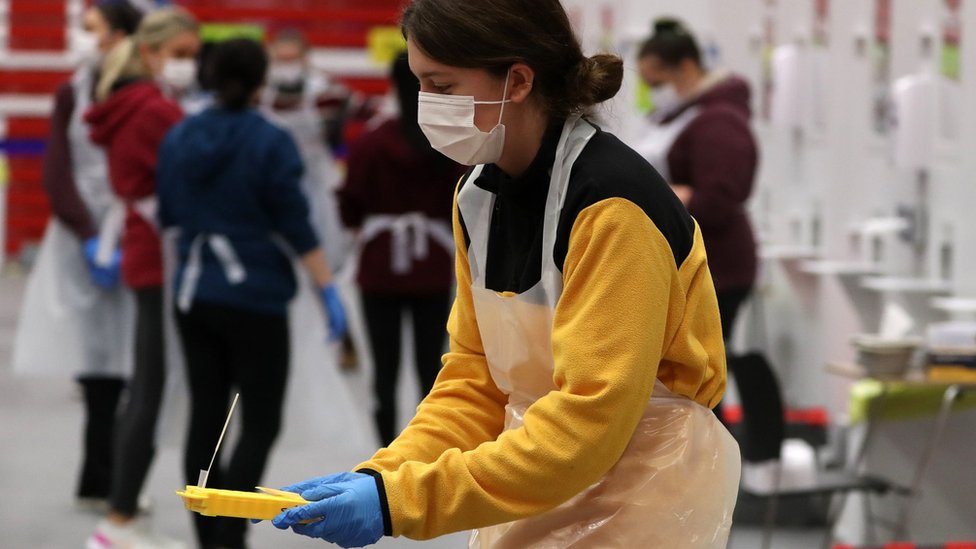 The number of students dropping out of their university courses across the UK has been lower this term than in previous years.
Despite the pressures of the pandemic and campus lockdowns, figures from the Student Loans Company show a fall in those leaving this autumn.
About 5,500 students withdrew from courses, compared with 6,100 last year.
The figures have been released on the day that the "travel window" opens for students to go home for Christmas.
The lower drop-out rate reflects the lack of any better alternatives this year, suggested Nick Hillman, director of the Higher Education Policy Institute think-tank.
"What else are you going to do? You can't travel and it's hard to get a job," he said.
"It's not been as good a year as normal for students, but there are still lots of positives," Mr Hillman added.
Nine-week gap
But many students heading home this week will not be returning to their universities for another nine weeks – as the government in England announced a staggered start to next term, with some students not back until 7 February.
The plan, to avoid a surge of students and the risk of spreading coronavirus, will see students returning over five weeks in the new year – with most courses starting online before a return to in-person teaching.
Mass testing for students gets under way

Two Covid tests for students and then leave in 24 hours
The first students returning from 4 to 8 January will be for hands-on, practical courses which are difficult to teach solely online – which will include medicine, nursing and dentistry; sciences which need to use laboratories; or music, dance and drama.
Other subjects, such as English or history, would be taught online at the start of term, with students back between 25 January and 7 February.
Students will be offered two lateral flow Covid tests when they arrive back – similar to the process for their departure.
Momoh Suleman, studying social work at the University of Bradford, is sympathetic to the need for the delayed start – although wants something to be arranged about paying rent when he won't be there.
"It's the best idea to keep our families safe," he said, and on balance he said it was right to have a staggered return if it reduced the risk of infection.
He is having two Covid tests this week before getting the train home to Manchester – and can't wait to see his family, having decided it was safer not to see them during the term.
"I didn't want to risk them," said Momoh.
Coaches and time slots for student exodus
With the "travel window" now open, students can start heading home. To avoid an initial rush on to the roads or public transport some universities have travel slots in place for when students can depart.
Louis Chambers, a first year studying geology at the University of Hull, will be among the students heading home this week.
His parents are coming to take him back to Norfolk – and the university is running a system of one-hour slots for students to be collected, which he said will mean "not so many leaving at once".
"It will be a relief to get back home," he said, as he has been able to see his family only once this term, because of Covid restrictions.
But he thinks the Covid testing and "travel window" have been uncomplicated so far – and he has enjoyed his first term.
And many students will already have left. Out of the six in Louis's flat, he said, three have already gone home.
University of Hull student services director Anji Gardiner has been organising the staggered departures through the Christmas "travel window".
As well as slots for those being collected by car – which run from 07:00 to 20:00 GMT – there are coaches being laid on and a booking system for the limited capacity on trains, with the numbers travelling spread out across the week.
"We want to keep it safe – we didn't want a log-jam of people trying to get home," Dr Gardiner said.
Mass testing before Christmas
The mass Covid testing of students began in universities on Monday – with temporary testing centres set up in sports halls and in rooms on campus.
Before leaving for Christmas, students have been encouraged to have two tests three days apart – and to travel within 24 hours of receiving a second negative test result.
The "travel window", in which students are expected to move out of university, runs from 3 to 9 December.
In England, about 1.2 million students will be travelling from a university to a home address in another part of the country, including:
235,000 leaving the South East
217,000 leaving London
126,000 leaving the East Midlands
122,000 leaving the West Midlands
119,000 leaving the North West
110,000 leaving the South West
88,000 leaving the East
64,000 leaving the North East
Universities UK welcomed the plans for more testing for students when they returned after Christmas.
"The high demand for tests from students shows they understand the important role testing can play in keeping themselves and their communities safe," said a spokesman.